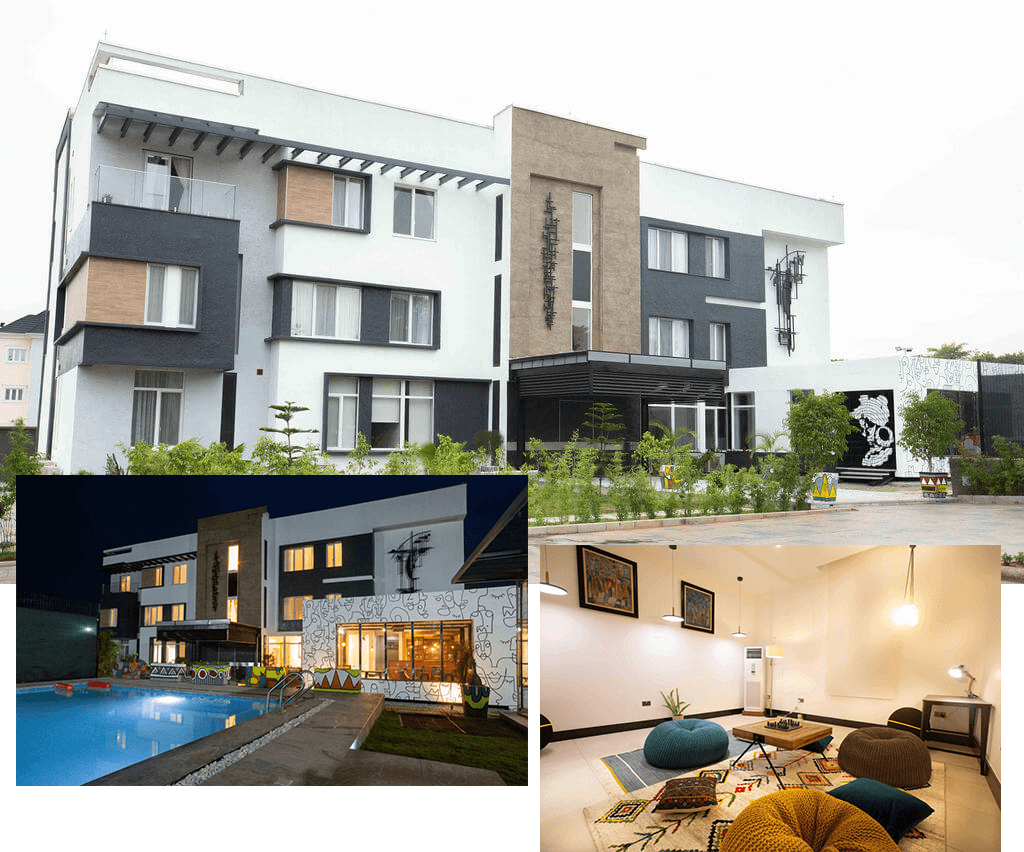 Behere is designed to be a unique boutique residence in the city, offering a private and undeniably great lodging experience. In celebrating the African continent and our home state Nigeria, we named our rooms after African cities and three notable towns in Nigeria.
The concept of exclusivity in a busy and increasingly fast paced city is a shift from the norm. We believe you need the privacy akin to the safety and security of your own home. Our brand will always represent, cosiness and quietness, offering open spaces, greenery, and contemporary works of art in both our interior and outdoor spaces.
Behere Nigeria is new facility, and we have taken comprehensive measures to ensure our facility will always be safe throughout and after the global Covid-19 pandemic–with restricted access, safe distancing measures, smart digital temperature checks, and sanitiser stations with daily cleaning and disinfecting protocols in place
Our facility houses a contemporary art gallery displaying work from foremost African artists, a mini workstation space, along with a restaurant and outdoor café, The Good Life Cafe.
Our next-generation techno gym overlooks our outdoor swimming pool with a deck area for lounging. An expansive green garden space and our lawn tennis court add notes of natural harmony and athletic energy that completely embody the lifestyle of our residents.
Clean,Quite Decent with very polite staff.A great spot for me,everything was very well thought out. The discounts avaliable was really worth it allowed me stay longer. I recommend you... read more stay here if visiting Abuja,is refreshingly new.

Jay Obi


12/21/2020

The very best! of the best!⭐⭐⭐⭐⭐⭐⭐the attention details, brilliant - cozy ambience with happy and positive vibes

Wilson


11/25/2020

Excellent service and clean hotel. Great ambience and the food is good. Very polite staff, the hotel is quite which I love. They even pick and drop me off... read more at the Airport with no extra charge. Pls maintain the standard.

Olumide Ayeni


12/03/2020

First of all the hospitality... they have the option to pick you up from wherever you're coming from... secondly, the ambience. My God. It's a new place, serene location, you'd almost feel... read more like you're being whisked away. It's Timeless contemporary african architecture. It's beautiful. 16 beautiful well thought out rooms, lovely bathrooms, the chef and the restaurant are top notch. Their cocktails too... Omo. Food and drinks are affordable... there's a 10k cocktail sha ☠️... All in all, it's a beautiful place. It's new, they opened November 1st 2020. The owner would welcome you and give you a tour by himself 🥺, answer whatever questions you have joyfully too. Let's hope the maintenance culture is as great.

yewande adeniyi


11/22/2020