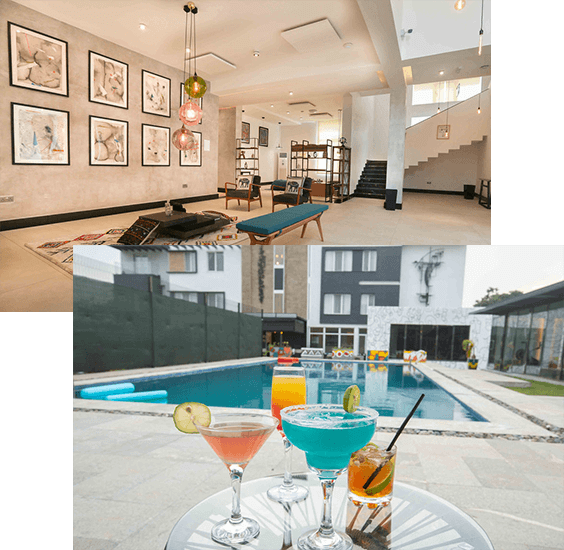 Contemporary. African. Timeless.
Be-here is an upscale boutique residence, with a contemporary allure, located in Nigeria's capital city, Abuja. Offering private and undeniably great lodging experience with great food, warm hearts, and all the comforts of home.
A serene and secured neighbourhood with easy commute to the Central Business District and key parts of the city.  Just 34km drive from Nnamdi Azikiwe International Airport Abuja
Exclusive & Resident-Only
We believe excellence is rewarding and addictive. We have built a space that redefines luxury, privacy, safety, comfort and pleasure. At Behere, our facility is primarily exclusive to residents.
Invited guest and visitors can only access the facility through prior and confirmed access booking with our concierge office. We ensure round the clock security with private guards, CCTV monitoring, alert and crime prevention systems.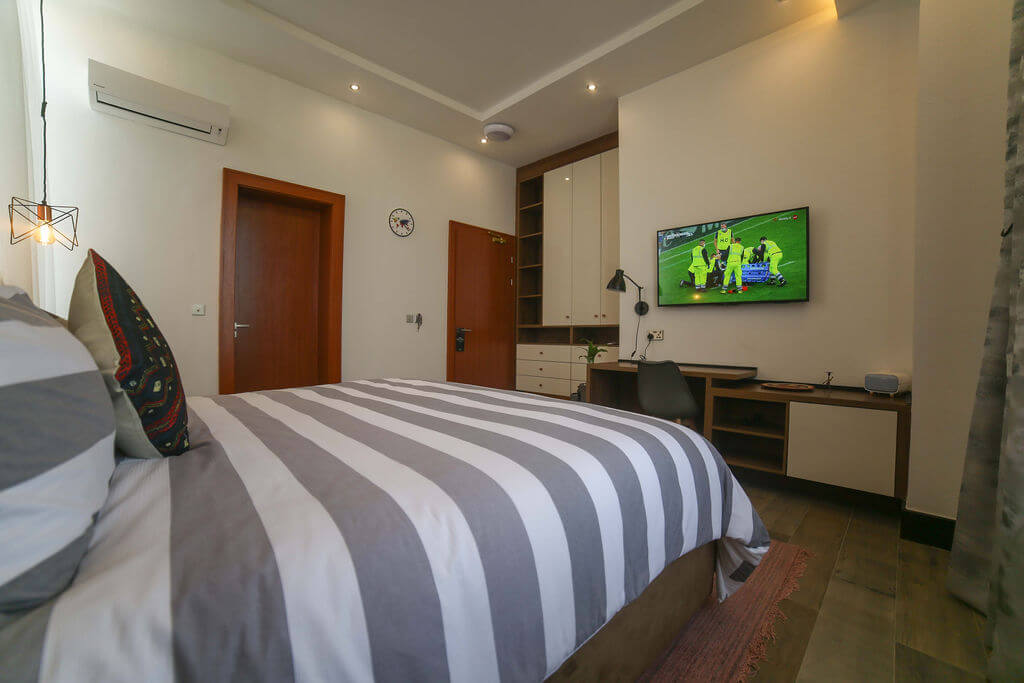 Prices start at: ₦88,330 per night
Ouagadougou is our Delight suite (26 SQM) on the ground floor and with disable accessibility.
Details
Guests:

2

Amenities:

24-Hour room service, Air conditioning, Art Gallery, Cotton Area Rug, Courtyard View, Desk & chair, Desktop & chair, Double Glazed Soundproofed Windows, Extra Layer Bed Topers and Duvet, Fire Alarms, Free High-Speed Internet (WiFi), Free Secure parking within our facility, Gym, Lawn Tennis Court, Long Span Natural light Windows, Lounges, Luggage storage, Mosquito Nets, Non-Smoking room, Pool, Smart Sony flat screen TV, Soundproofed windows

View:

Courtyard view

Size:

26m²

Bed Type:

1 King Bed
CHARLES OZI
Family with young Children
We had a wonderful time at the hotel. It's a small very cosy place, with its artistic lobby area to its spacious and very clean rooms, an amazing pool and a standard tennis court. The whole environment is awesome. Service was very efficient and food was good too.
OLUMIDE AYENI
Young Couple
I thoroughly enjoyed my stay at Behere Abuja. The staff are polite, food is good and room very clean. They even sent a SUV to pick and drop me off at the Airport with no extra charge. Pls maintain the standard.
FEMI BALOGUN
Family with young Children
We enjoyed our stay at the residence. It was a wonderful experience. The room was big and luxurious. Each item in the room appeared to be specifically tailored to give that awesome look.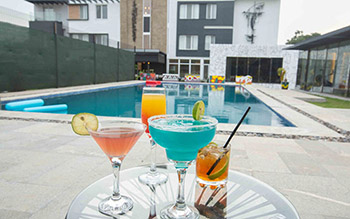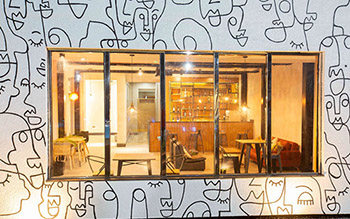 Our complimentary Break-fast is servered at the Restruant (The Goodlife Resturant & Lounge) located on the ground floor it offers a view of the pool and court yard. Residents and their guests can relax and order drinks,  have lunch and dinner at the Resturant or our Pool Patio.
Inspired by the local atmosphere
Unconventional Hospitality,we refer to our occupants as residents to emphasise the homestyle hospitality we strive to impart from pick-up to departure. Our residents are not simply "hotel guests" in the conventional sense. We want you to make Behere your home away from home.
Excellent service and clean hotel. Great ambience and the food is good. Very polite staff, the hotel is quite which I love. They even pick and drop me off... read more at the Airport with no extra charge. Pls maintain the standard.

Olumide Ayeni


12/03/2020

First of all the hospitality... they have the option to pick you up from wherever you're coming from... secondly, the ambience. My God. It's a new place, serene location, you'd almost feel... read more like you're being whisked away. It's Timeless contemporary african architecture. It's beautiful. 16 beautiful well thought out rooms, lovely bathrooms, the chef and the restaurant are top notch. Their cocktails too... Omo. Food and drinks are affordable... there's a 10k cocktail sha ☠️... All in all, it's a beautiful place. It's new, they opened November 1st 2020. The owner would welcome you and give you a tour by himself 🥺, answer whatever questions you have joyfully too. Let's hope the maintenance culture is as great.

yewande adeniyi


11/22/2020

The very best! of the best!⭐⭐⭐⭐⭐⭐⭐the attention details, brilliant - cozy ambience with happy and positive vibes

Wilson


11/25/2020

Clean,Quite Decent with very polite staff.A great spot for me,everything was very well thought out. The discounts avaliable was really worth it allowed me stay longer. I recommend you... read more stay here if visiting Abuja,is refreshingly new.

Jay Obi


12/21/2020